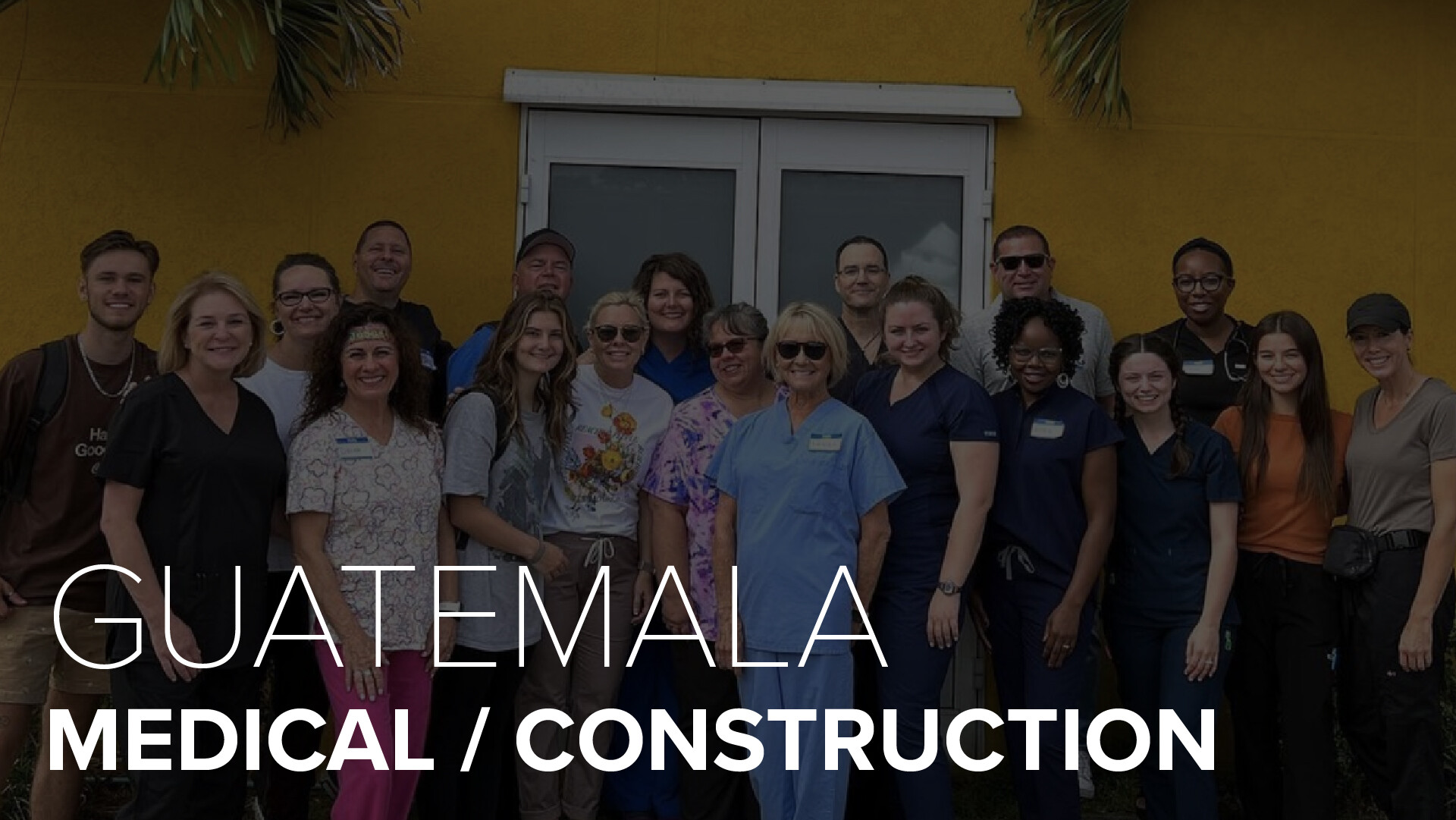 Dates: July 15-22, 2023
Leaders: Stacey Hatcher, Kristin Keeney
Team Members: Ministry Team: Ages 10+ with Parent, Age 15+ without Parent, Medical & Dental Team – Adults Only, Construction Team – 16+
Cost: $2,950
Focus:
This is a unique mission trip as we will be taking 3 different teams serving in the capacity that they choose to the same location in Chimaltenango, Guatemala. This team was specifically chosen to allow families and/or spouses to experience a mission trip together but serve in different capacities should they choose to. Children must have at least one parent serving with them on the ministry team.
The ministry team will be working through local churches to serve the community through evangelism and humanitarian relief. We will also be working in schools as well as under-served rural areas to provide food and other needs they may have. Our team will also host church outreach events and have the opportunity to share the gospel with everyone we encounter.
The medical and dental team will be providing much needed medical care in a very underserved area.
The construction team will build 1-2 houses for widows and/or single moms.
Each evening the teams will come back together to enjoy dinner and time as one big team.
Accommodations/Meals:
Our team will be staying at a hotel and eating in restaurants together.
Fundraising Deadlines:
$200 – With Application
$1,100 – 2/15/2023
$2,000 – 3/15/2023
$2,950 – 4/15/2023
We will provide all fundraising supplies and an online fundraising platform as part of your trip cost.
Please note that deadlines are not flexible. All payment amounts must be made by posted date to retain your place on the team. The trip cost is tax-deductible, but funds are non-transferable and non-refundable.
What is Covered?
Roundtrip airfare from DFW to Guatemala, all lodging and transportation costs, all meals in-country, medical and evacuation insurance, and a missions t-shirt. Please bring spending money to cover souvenirs, personal items, and additional snacks/meals/drinks you might like to purchase in the airport or during the trip.
Application Process:
Once you fill out your application it will be reviewed within 24 hours. You will receive an email with detailed next steps, which will include completing all needed consent forms. You will then need to schedule a meeting with the missions department to go over forms, notarize anything that requires a notary, and receive your fundraising supplies. Once that is complete, you can start fundraising and prepare for your trip!
Additional Information:
Team training is a vital part of your mission trip experience and is required to be a part of the team. You will be given meeting dates at your initial appointment and will be required to attend at least 80% of the meetings. We have found that team members who prioritize meeting attendance are far more prepared and have a much more fulfilling mission trip.
A valid passport that does NOT expire prior to March 1, 2024 is required for this team. Please apply for your passport as soon as your trip application is approved.
Questions?
Please email missions@milestonechurch.com.
This trip is now closed.


---
Spread the Word