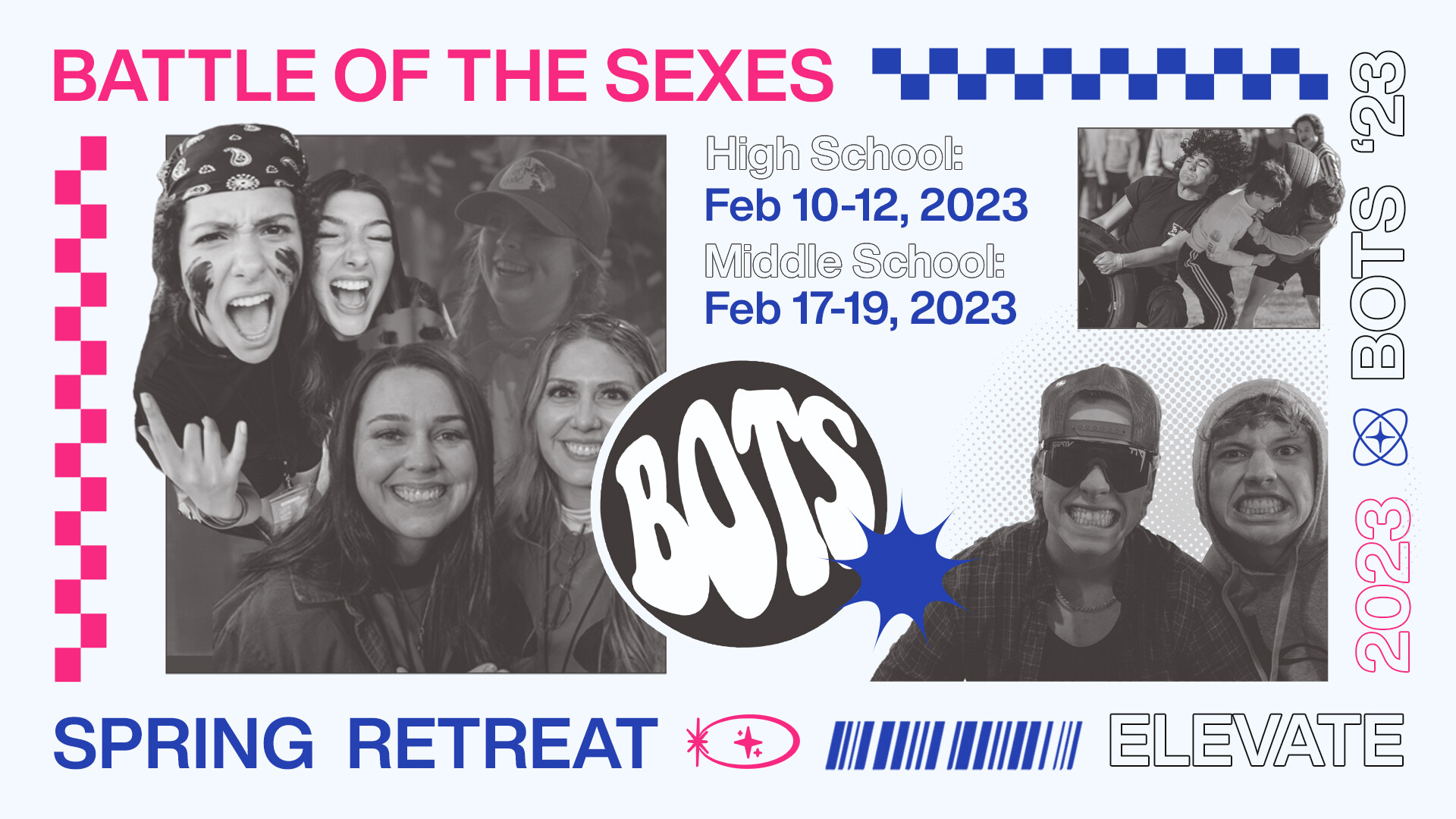 High School BOTS Info
Battle of then Sexes (BOTS) is our annual spring retreat dedicated to learning God's view on love, sex, and dating. These are impactful weekends for students to receive freedom, forgiveness, and identity from God. Students spend the weekend in small groups with friends & leaders, compete in Tribe War competitions, and experience marked moments with God in sessions.
Who: 9th - 12th Grade students
When: February 10-12, 2023
Where: Lakeview Camp & Retreat Center, Waxahachie, TX
Cost: $160
Registration Closes Wednesday, February 8th, 2023
Check-in at Milestone Church Keller at 4:30PM on Friday, February 10th (dinner provided)
Pick-up is after the 9:15 & 11am service on Sunday, February 12th (Pick up time is based on student's tribe)
Packing List:
Bible
Journal
Toiletries
Bath Towel
Twin Size Bedding or Sleeping Bag and Pillow (please place all bedding in trash bags)
Prescription Medications in original bottle (will be checked in during check-in process by parent only)
Snacks
Cash for Vending Machines
Refillable water bottle
Flashlight
Slingback or small backpack
Tribe Gear
Athletic clothes/shoes
Clothes/shoes for cold weather
FAQs
What if my student is not able to attend the whole weekend?
Even if your student is not able to attend all of the camp, we would still love to have them be a part of it as much as possible. If a student is arriving late to camp, or leaving early from camp, we would simply need this time away form filled out to be able to coordinate drop off and pick up.
What are tribes?
For our camps and retreats, we assign each small group a specific team that they will participate in competitive games and activities with. We call these teams "tribes." Tribes have a specific color and mascot (i.e. the Blue Hurricanes, etc), and we encourage students and leaders to wear their tribe's color throughout the week.
Who can I contact for specific questions?
---
Spread the Word